Learn about Displacement
Performance means different things to different people. And with multiple types of SUBARU BOXER® engines available in a wide range of output levels, there's one that fits your definition. What they each have in common is the smooth operation and sharp vehicle handling characteristics that make driving a Subaru so remarkable.
2.5-liter 4-cylinder SUBARU BOXER® Engine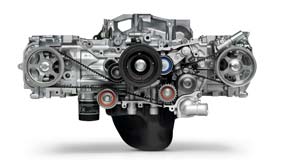 Capable power, with exceptional value. The 2.5-liter 4-cylinder SUBARU BOXER® engine offers 170 horsepower -- ample power for confident driving -- all delivered with the smoothness and poised handling made possible by its horizontally opposed design.
2.5-liter Turbo SUBARU BOXER® Engine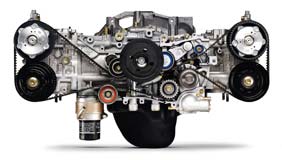 The intercooled, turbocharged 2.5-liter engine comes in many different flavors. The Forester 2.5XT, with an energetic 224 horsepower, inspires fun and confident driving. Legacy 2.5GT puts a muscular 265 horsepower at your disposal for athletic performance. While the Impreza WRX STI devours roads with the 305-horsepower rush from its powerplant. Each version delivers the kind of lift to your day that only the punch of turbocharged performance can provide. Step on the pedal of any model with the 2.5-liter turbo, and you'll experience quick responsiveness that will instantly draw you into the driving experience.
3.6-liter 6-cylinder SUBARU BOXER® Engine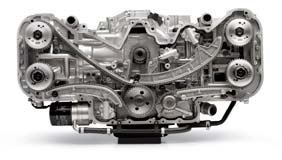 The largest SUBARU BOXER® engine available, the 3.6-liter 6-cylinder provides you with a wealth of ultra-smooth power. 256 horsepower and 247 lb-ft of torque will move you over the road with effortless grace. Its low-profile design and low placement deliver a level of poise and vehicle stability not often found on engines with such a large displacement. The horizontally opposed design feeds power with maximum efficiency to each wheel for a driving experience that's always the utmost in confidence.