How the SUBARU BOXER® Engine is Different
Inspired by the design of airplane engines, the SUBARU BOXER® engine stands out from the type of engine you'd typically find in a car. Instead of pistons moving straight up and down, or at an angle like most engines, the pistons of the SUBARU BOXER® engine are laid flat and move parallel to the ground. The unique punch, counter-punch action is inherently smoother, and the low, horizontal layout is more balanced and stable. And what's more, its alignment allows us to feed power directly into the Subaru Symmetrical All-Wheel Drive system with maximum efficiency.
SUBARU BOXER® Engine vs. Inline Engine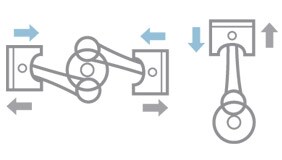 Inline engines feature pistons that sit upright and move straight up and down. This means the engine block is taller overall and has a higher center of gravity than a SUBARU BOXER® engine, which features pistons laid flat. The upright layout of inline engines means they can vibrate more during operation. Also, these engines are often placed transversely -- in 90° opposition -- to the central driveshaft. If you want the control that comes from all-wheel drive with such a layout, extra components must be added. These components route power through several 90° turns before it reaches the wheels. This makes the system more complicated than what's possible with a SUBARU BOXER® engine. And it makes symmetry all but impossible.
SUBARU BOXER® Engine vs. V-type Engine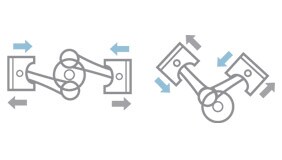 The pistons in a V-type engine move at a more upright angle to each other. Without the horizontally opposed motion of the SUBARU BOXER® engine, they are more prone to side-to-side vibration. Also, the V-type design inherently has a higher center of gravity than the flat design of the SUBARU BOXER® engine, and because it often sits higher in the vehicle, it can elevate the center of gravity of the entire vehicle. The result is performance that can be less smooth than a SUBARU BOXER® engine and handling that isn't as tight and responsive. What's more, the extra vibration can require extra parts to stabilize the engine, which add weight and bulk.
SUBARU BOXER® Engine vs. Hybrid or Battery-based System
Hybrid or battery-based drive systems certainly have advantages, but they are not without trade-offs. For example, you often sacrifice versatility and capability with a hybrid or electric vehicle. Towing capacity and the ability to tackle rough roads are greatly increased with the SUBARU BOXER® engine. Subaru also invests tremendous interest in building engines that burn cleanly. The Forester, Legacy and Outback even received similar EPA air pollution scores as hybrid vehicles in their class3. What's more, with the conventional, yet clean approach Subaru uses, we avoid the environmental risks of manufacturing batteries, and then disposing of the chemicals later on.